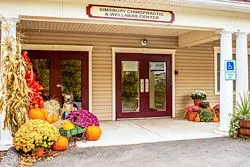 "Our practice is not just about our families, it's about yours!"
Simsbury Chiropractic & Wellness Center opened it's doors in 2009. Dr. Cheryl began her practice in 1993. Dr. Cheryl remarks, "We merged practices in 2009 in order to facilitate more time with our families. We are able to be open more hours during the week without either of us being away from home excessively."
Chiropractic Care That Works for the Entire Family
We see patients with a wide variety of conditions! We have a high success rate for pain relief, and improved health and wellness.
"We've noticed that after one family member comes in for care, we end up seeing the whole family eventually. We love helping families improve their overall health by treating your acute conditions and educating you about overall wellness."
What We Offer for the Whole Body
We focus on the whole body! Using other aspects of wellness along with chiropractic philosophy helps us help you. "Ours is a holistic wellness program with the goal of helping people to feel better." There is power in an adjustment. There is also power in nutrition and exercise. Our wide variety of natural health techniques, allows us to help you with the following conditions!
Back pain
Neck pain
Headaches
TMJ
Bed-wetting
Soft tissue therapy
Extremity adjusting and more
Ultimately, We Want to Meet Your Needs
Let's get together to discuss your needs. Together we will determine if you need acute care or corrective care. We'll educate you so you can make an informed decision. Leading you down the path to wellness is top priority.
"One of the things we love most about what we do is knowing that we're making a difference in somebody's life." – Dr. Cheryl
Bring your aches and pains. Bring your family. Bring your goals and questions. Make your first appointment today! Call (860) 651-3355 to get started!
Facility
Our chiropractors are proud to provide a clean, comfortable, cutting­-edge facility.
Appointments
If you would like to make an appointment, please contact our office by phone or email. If you would like to request an appointment online, click 'Contact Us' above. A member of our staff will follow up with you.
Financial
Our practice accepts cash, check, and major credit cards. We will be more than happy to submit your insurance forms for you, and we accept most major insurance providers. Please call our office to verify whether your specific insurance plan is accepted. Payment plans and schedules can be discussed upon request.
Cancellation
If you would like to cancel an appointment, we ask that you provide us with at least 24 hours notice. A fee may be charged for a no­ show or late cancellation, and patients may be discharged from our practice for repeatedly missing scheduled appointments.
Insurances WE PARTICIPATE IN
United Health
Anthem Blue Cross Blue Shield
Connecticare